Berliner Festspiele's MaerzMusik – Festival for Time Issues 2022 has been co-developed by the Egyptian-Polish curator and writer Kamila Metwaly and artistic director Berno Odo Polzer. The ten-day programme in ten venues in Berlin focuses on the visible and invisible relations that hold everything together, in music and beyond.
The opening "A Garden of Forking Paths" in the Gropius Bau invites the audience to wander alone and with others. Archipelagos of music and sound inhabit the spacious environment, the vast atrium, corridors, show rooms and the cinema. Amongst the music performences is Satch Hoyt's "Hair Combing Cycle 1884–1885", vocal pieces with the summoning sounds of the zaghrouta (ululation), Christian Kesten's installation "Who Am I", "The Circle Flute" and solo compositions by Rebecca Saunders, Georges Aperghis, Toshio Hosokawa and Salvatore Sciarrino, performed by Klangforum Wien.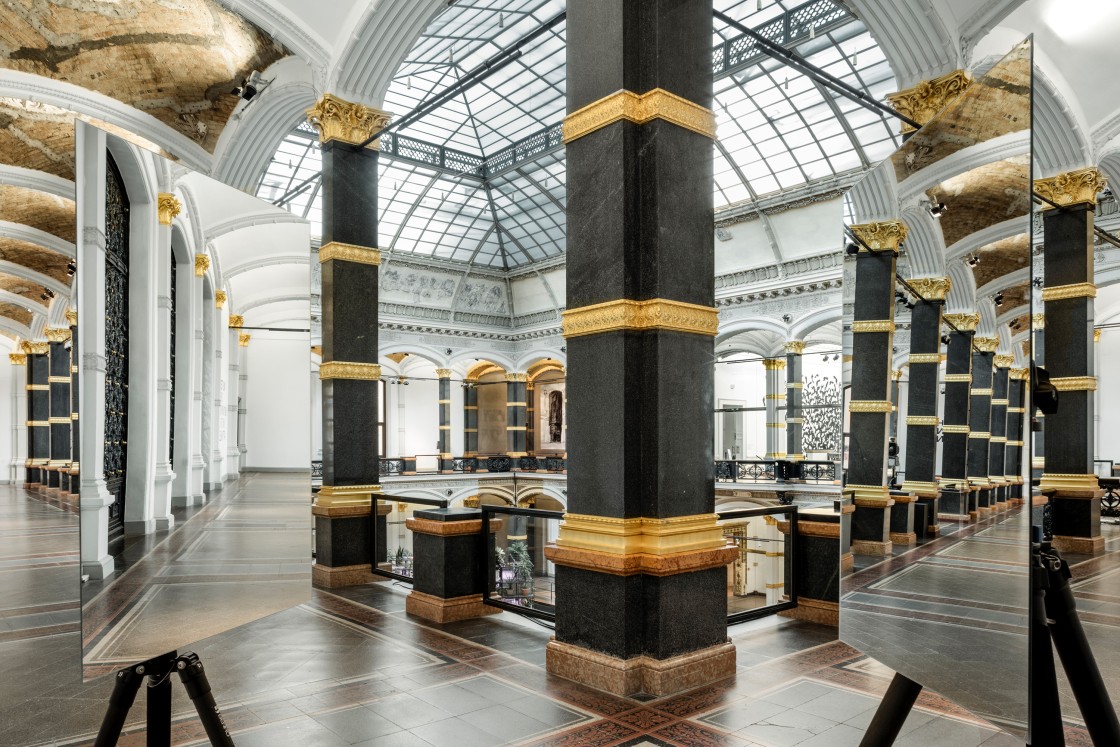 The opening of MaerzMusik offers a place of encounter and likewise the festival ends on the final weekend with four windows of time "A Garden of Forking Paths – Finale", which move into the urban space around Nettelbeckplatz in Berlin/Wedding.
Six locations, including Nettelbeckplatz itself, are simultaneously open on 26 and 27 March 2022 and invite to discover by listening. The Betonhalle at silent green features live concerts by electronic artists working with field recordings; the octagonal space Kuppelhalle hosts sound installations to be immersed in; Atelier 2 of silent green becomes a listening station that gives space to a plurality of soundscape approaches; SAVVY Contemporary invites single listeners to encounter a one-on-one relation with sound. Nettelbeckplatz bears witness to sounds from entirely different realities in the world.
Live-performances with Félicia Atkinson, KMRU, Felicity Mangan, Jake Muir, Tomoko Sauvage, Minor Science's 'Absent Friends' and works by AGF, Tarek Atoui, Chris Chafe & Greg Niemeyer, Peter Cusack, Carl Michael von Hausswolff, Jacob Kirkegaard, Gareth Lee, LIGO, Robin Mackay, Martyna Poznańska, Matthieu Saladin, Minoru Sato, Thomas Tilly, Chris Watson and others can be experienced.
In the concert series "Interpoiesis" in the Kuppelhalle of silent green, will perform PUNGWE (Memory Biwa & Robert Machiri) with Llorenç Barber, Nguyễn + Transitory with Yuko Kaseki, Wu Wei, Alexis Baskind, Katrin Bethge as well as George Lewis with Jeffery Renard Allen and Georges Aperghis with Sofia Jernberg.
Éliane Radigue inspires the festival with her way of being in the world through sound and listening. Her groundbreaking electronic compositions can be experienced live for the first time as a complete work in 17 events at Zeiss-Grossplanetarium. Radigue's collaborative instrumental work "Occam Océan" will be performed by Ensemble ONCEIM from Paris and Klangforum Wien at the Chamber Hall of Berlin Philharmonic. Two works by the US composer and violinist Catherine Lamb can be experienced in the Kaiser Wilhelm Memorial Church: "wave/forming (astrum)" (2019) and "Inter Spatia" (2022) as German premieres.
The DAAD Gallery presents the multidisciplinary artist Yara Mekawei as a Fellow of the Berlin Artists-in-Residence Programme in an exhibition. With Cashmere Radio a daily programme is transmitted that aims to become a place and a frequency to openly share influences, processes and perspectives of the festival.
MaerzMusik – Festival for Time Issues
18. – 27.03.2022 | Gropius Bau, silent green, Kaiser Wilhelm Memorial Church, Zeiss-Grossplanetarium, Chamber Hall Philharmonie Berlin