ensemble mosaik celebrates its 25th anniversary! With the five-part concert series Klanggutkatalog taking place at Kesselhaus in der Kulturbrauerei Berlin the ensemble takes a look back at concert conceptions from its past and develops them further in the light of current circumstances – artistic and otherwise.
The second part of its anniversary series is based on the project Serien Studien Etüden from the years 2003/2004, which was dedicated to series of composition as an independent approach to composing, characterized by its virtually scientific intention in examining a conceptual core from many differing angles. In the spirit of the series, ensemble mosaik has commissioned the third part of Sara Glojnaric's series sugarcoating (2017-22), which will be premiered at Klanggutkatalog 2 on August 31st 2022.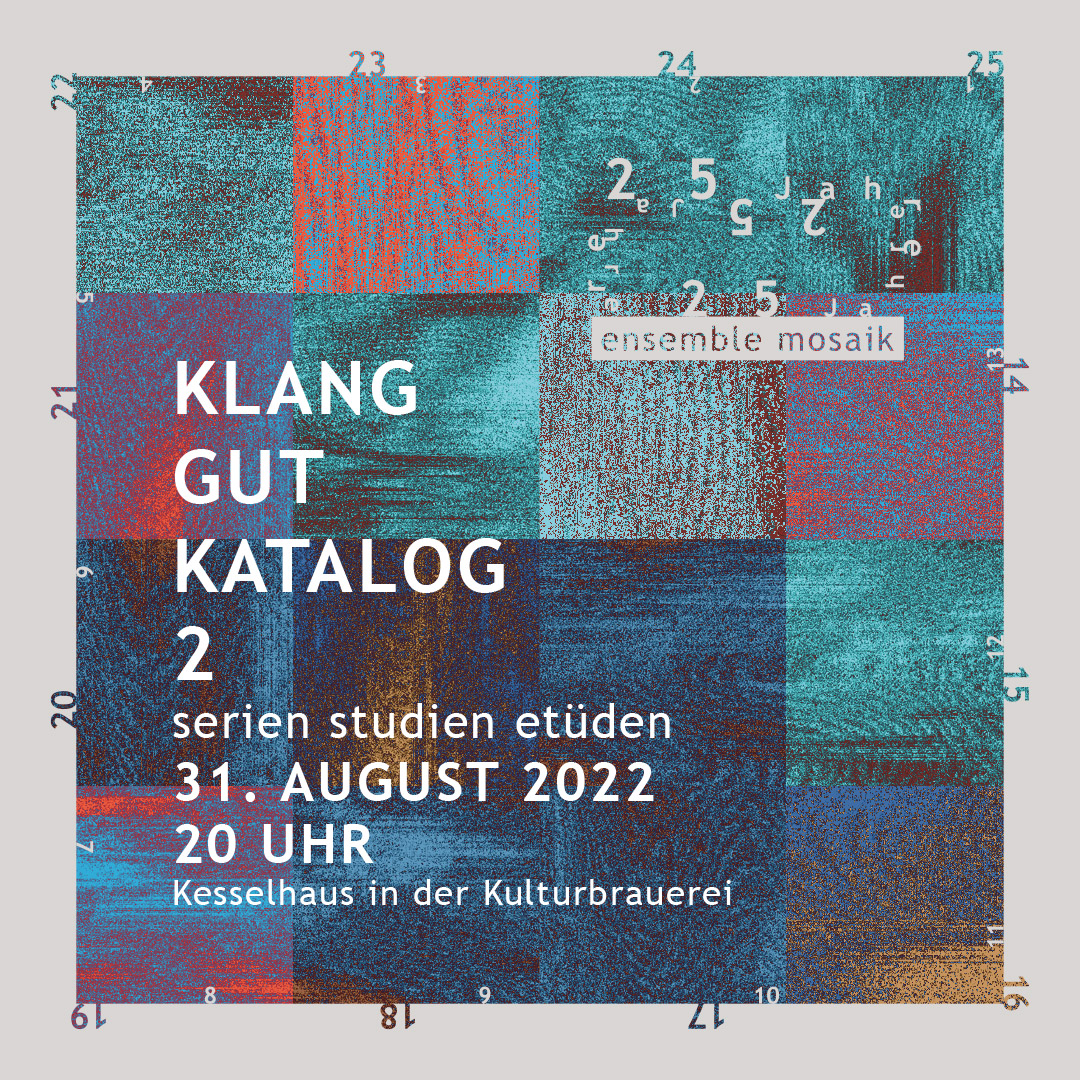 The sugarcoating series traces the readaptation of essential sound fetishes in pop music, drawing on data from the Million Songs Dataset, a freely accessible collection of sound characteristics and metadata from one million contemporary pop songs. Ramon Lazkano's cycle Préludes (2020/21) already reflects the idea of serial composition within its own structure, taking one of its starting points from the fascination for the historically influential series of piano preludes by Chopin and Debussy.
With the composition Amproprification#9: Schrift/Bild/Schrift (2019) the ensemble revisits the superimposition of two musical conceptions by two masters of the compositional series: Maximilian Marcoll and Bernhard Lang.
Klanggutkatalog 2 – serien studien etüden / ensemble mosaik
31.8.2022 | Doors 19:30 | Starts 20:00 CET
Kesselhaus in der Kulturbrauerei | Knaackstraße 97 in 10435 Berlin