MADEIRADiG is back for 2022. Between Thursday, 8.12. and Tuesday, 13.12., the paradise-on-earth Portuguese island transforms into a hotbed of digital art and culture once more.
While the rest of Europe is cold and dreary, experience some of the most formidable avantgarde musicians in the world and stay in a gorgeous design hotel located on a clifftop in the middle of the Atlantic Ocean. This intimate festival on the mountainous volcanic island of Madeira features a challenging line-up, a landscape to match and wonderful spring temperatures.
The line-up for this year's MADEIRADiG features legendary Japanese noise artist Phew, seminal English composer and musician Richard Skelton, the godmother of electroacoustic music, Argentinian composer Beatriz Ferreyra, Danish sound artist and composer Sofie Birch, and London-based violist and vocalist, Alison Cotton, and many more.
Thursday, 8th (JDP)
Pedro Pestana
Friday, 9th
Richard Skelton
Beatriz Ferreyra
Saturday, 10th
Alison Cotton
Phew
Sunday, 11th
Sofie Birch
Raven Chacon
Monday, 12th
Gabriel Ferrandini
Bob Ostertag
Tuesday, 13th (JDP)
Silvia Tarozzi & Deborah Walker
Like last year, we have 4 days of concerts on the main stage of Casa das Mudas. There are additional concerts and activities at the John Dos Passos Cultural Centre in Ponta do Sol, including, of course, hangouts on the clifftop at the Estalagem da Ponta do Sol. For the best festival experience, we recommend that you stay with us, your fellow guests, and our artists in the most beautiful village in whole Madeira, Ponta do Sol.
Save the date: Thursday, 8th – Tuesday, 13th December — and see you for our annual hideaway retreat. For a taste of what's to come, check out these impressions from last year's festival.
Casa das Mudas | Estrada Simão Gonçalves da Câmara nº 37 / 9370-139 Calheta | Madeira
John Dos Passos Cultural Centre | Rua do Príncipe D. Luís, n.º 3 / 9360-218 Ponta do Sol | Madeira
Estalagem da Ponta do Sol | Quinta da Rochinha, 9360-529 Ponta do Sol | Madeira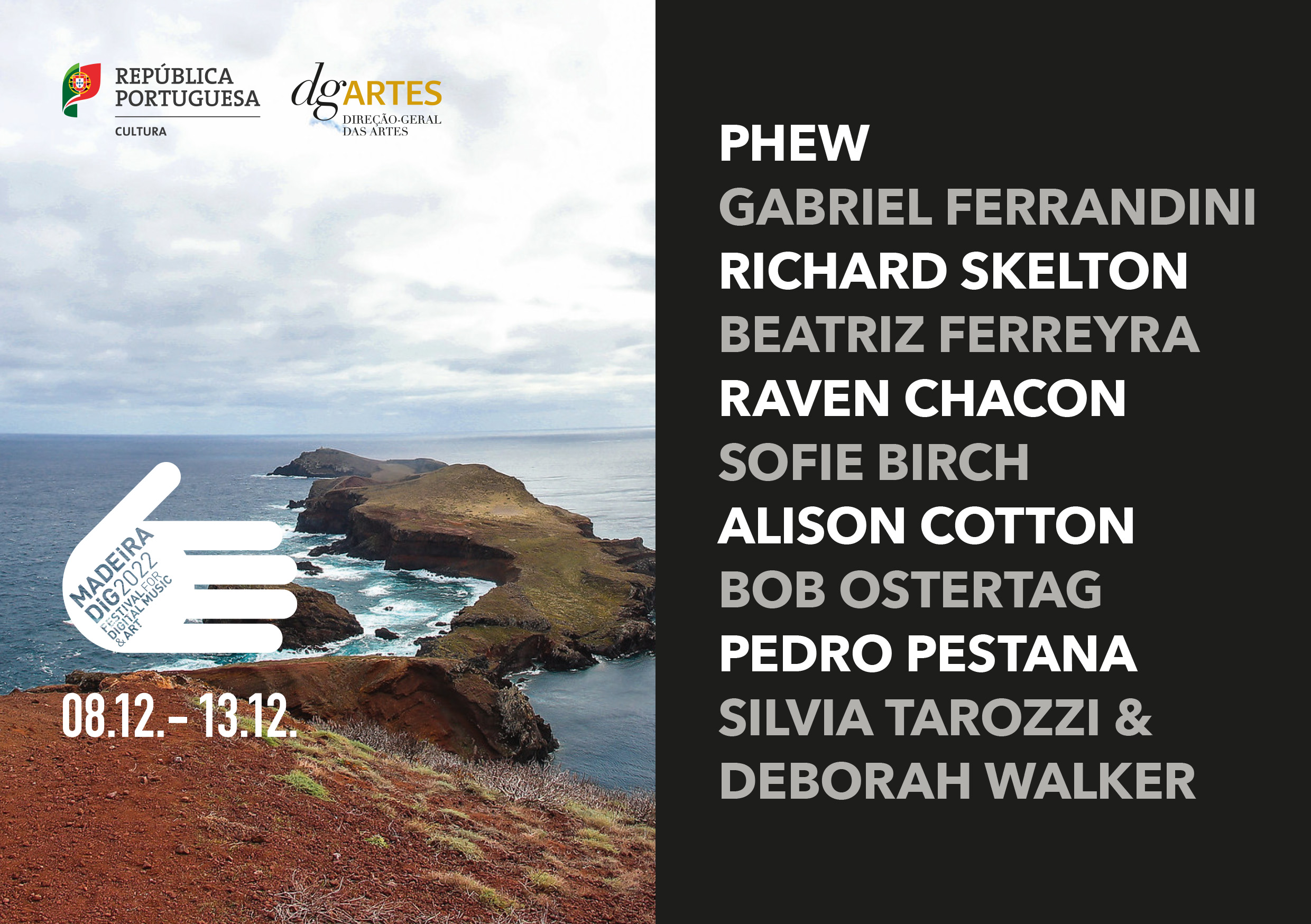 For the first time in over a decade of MADEIRADiG will not be in the 1st week of December this year, due to unavoidable circumstances. For any early birds who may have booked flights or accommodation in anticipation, you will unfortunately have to make new arrangements.