PROGETTO POSITANO

is a fellowship for young composers, established by the

Ernst von Siemens Music Foundation

in collaboration with

ensemble mosaik

in 2017: Each year, two fellows are invited to live and work for a month at the Wilhelm Kempff Cultural Foundation's Casa Orfeo in Positano on Italy's Amalfi Coast.

Following the residency in Italy, ensemble mosaik presents the works of the respective scholarship holders in a double portrait concert in Berlin. With works by this year's scholarship holders Maja Bosnić and Georgia Koumará.

Georgia Koumará, born in Thessaloniki in 1991 studied Composition (M.Mus.) in Thessaloniki (A.U.TH) and Cologne (HfMT) with Johannes Schöllhorn, Michael Beil and Michalis Lapidakis , Music Theory with Kostas Siembis and Piano with Lenio Liatsou and Lilia Vaseiliadou. Master classes with a.o. G. Aperghis, F. Bedrossian, Ph. Manoury, A. Posadas, O. Neuwirth, W. Rihm, B. Ferneyhough, B. Furrer, R. Cendo, J.S. Chiong, M. Tsangaris, P.Kokkoras, J. Walsche, J.M. Lopez Lopez. S. Gevarsoni complete her musical education.

Maja Bosnić (1985, Serbia) is a composer and performer from Belgrade. She is drawn to impossible missions, absurd solutions, limited material, playfulness, uncertain outcomes, audience participation, treating instruments as ready-made objects of expression, and treating real-life objects as musical instruments. She obtained a PhD degree in music composition at Goldsmiths, University of London (UK), supervised by prof. Roger Redgate, and is currently working as an Assistant Lecturer in Composition at the Faculty of Music in Belgrade. She writes pieces for solo, chamber, ensemble, and orchestra performances, as well as, projects for electronics, multi-media, and interactive settings with audience participation.

Founded in 1997, ensemble mosaik has evolved to become a particularly diverse and experimental formation in the field of contemporary music. Beyond their outstanding instrumental skills they display creative individuality and a never-ending joy in experiments. In years of tight cooperation they have created an entity of sound that is highest ranking both in artistic competence and openness to the most diverse concepts of contemporary music.

Close cooperation with up-and-coming composers and the tying in of digital media are key to the ensemble's work in composition, interpretation and presentation. It prefers an egalitarian workflow between all participants in a project. Transparency helps focus and intensify creativity. ensemble mosaik has cooperated with many composers over the years, thus enhancing a musical development in mutuality.

ensemble mosaic are Kristjana Helgadottir – flute, Simon Strasser – oboe/keyboard, Christian Vogel – clarinet, Martin Losert – saxophone, Christine Paté – accordion, Roland Neffe – percussion, Ernst Surberg – piano/synthesizer, Sarah Saviet – violin, Karen Lorenz – viola, Niklas Seidl – cello/keyboard, Arne Vierck – sound direction, Eckehard Güther – video technology
Progetto Positano w/ ensemble mosaik and Maja Bosnić and Georgia Koumará.
Wednesday, 25.10.2023 | Doors 19:00 | Starts 20:00 CET
Kesselhaus in der Kulturbrauerei | Knaackstraße 97 in 10435 Berlin
ensemble-mosaik.de | progettopositano.org | Event @ Facebook | Tickets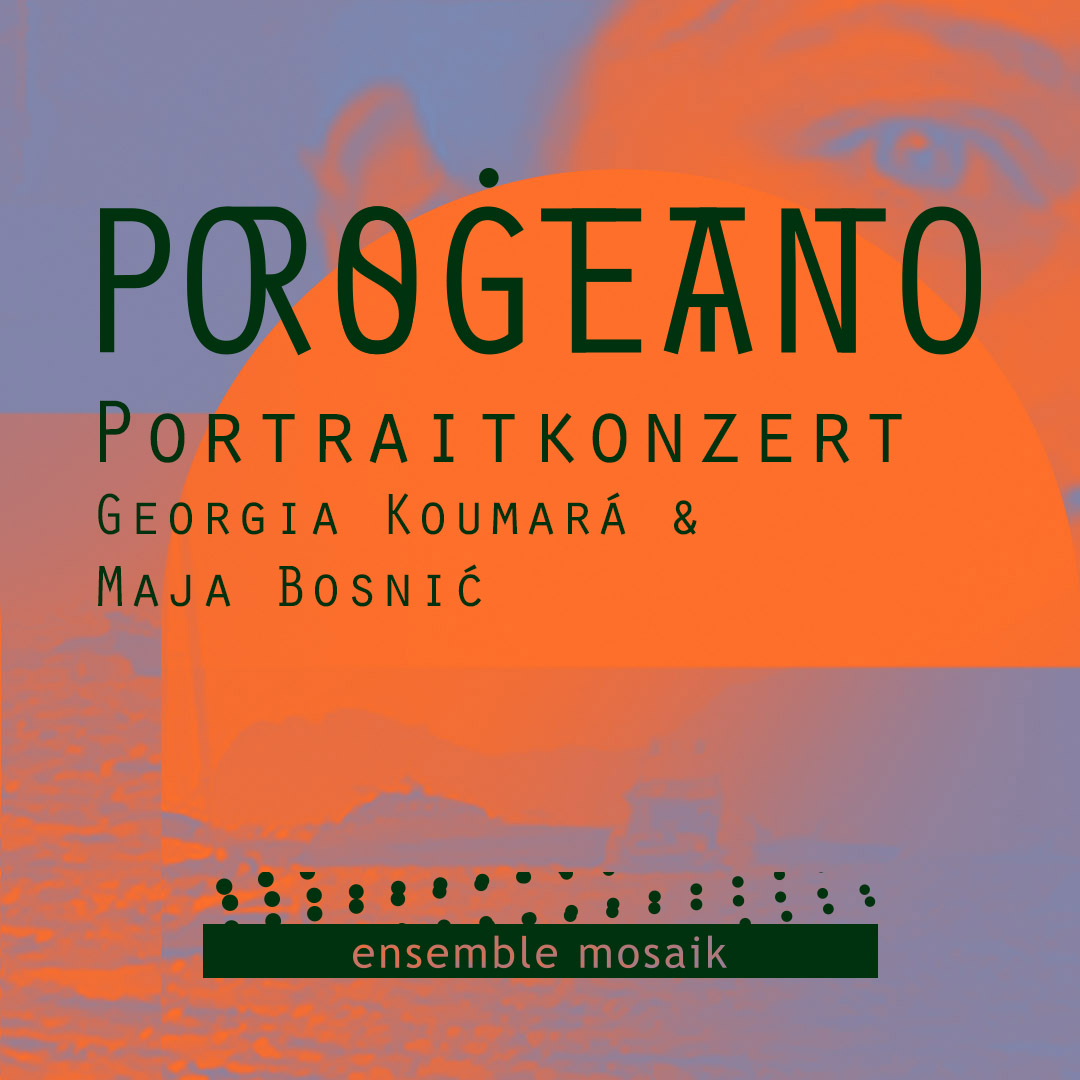 Progetto Positano is an initiative of the Ernst von Siemens Music Foundation in collaboration with ensemble mosaik and the Wilhelm Kempff Music Foundation.
Georgia Koumara – theremin
Enno Poppe – direction
Georgia Koumara
Delineated in black and white, caught or scattered, the letters dance "Im Vox-Haus" (2021)
Georgia Koumará
I wonder if I should start accessing pleasure a whole lot (2022)
Maja Bosnić
com.app.data (2018)
Maja Bosnić
The Upgrade (2017)
Maja Bosnić
Best of fibres (2022)
Maja Bosnić
((mno.go)) (2017)