DAS MINSK's new event format MINSKBAR will take place three times over the course of the summer exhibition. On one Thursday each month, DAS MINSK and the bar will be open longer in the evening. There will then be an opportunity to speak with mediators in the exhibition and to linger over music in Café HEDWIG and on the MINSK's terraces.
The music program of MINSKBAR is curated by the musician and artist Robert Lippok. A DJ set by resom will ring in the evening from 7 to 9 pm, and starting at 9 pm, Anushka Chkheidze will play a live set. The exhibition remains open until 9pm.
Born in 1997, the young Georgian Anushka Chkheidze is one of the most promising talents far beyond the country's borders; one of her important mentors is the Berlin musician Robert Lippok, with whom she has already collaborated several times. Growing up in the small village of Kharagauli, she began singing in the choir at the age of 11. She herself describes the time spent there as magical and believes that her music is strongly influenced by those childhood years.
Her second album "Move 20-21" was created during the pandemic and thematizes the absence of physical movement and interaction with other people, released in February 2021. After a residency in Berlin as part of Goethe Nachwuchs, in collaboration with Popkultur 2022, she began a two-year Master of Music Design program at HKU in Utrecht/NL. Chkheidze continues to be involved with choirs, which led to a commission from the Swiss-Georgian festival Close Encounters for the highly regarded Gori Women's Choir in Georgia, where Anushka's composition was premiered in April 2022.
The avid vinyl collector resom has been a staple of the line-ups at ://about blank from the very beginning, spinning everything from obscure left field house to fathomless bass; trippy electro to fierce techno; uplifting '90s jams to relentless cutting edge dance floor onslaughts.
She has been actively engaged in the social and cultural side of the music scene since her days in Leipzig with the Homo Elektrik collective as well as others. She curates the multifaceted conceptual event The Amplified Kitchen at ://about blank in addition to her work for the last ten years teaching DJ workshops for women. You can also hear her every two months on her show OPTION on Berlin Community Radio.
The former terrace restaurant Minsk, built in the 1970s in the modernist style of the GDR, has become a place of encounter between modern and contemporary art—and between people. Artworks from the former GDR, which are part of the Hasso Plattner Collection, are shown in DAS MINSK Kunsthaus in Potsdam in new contexts.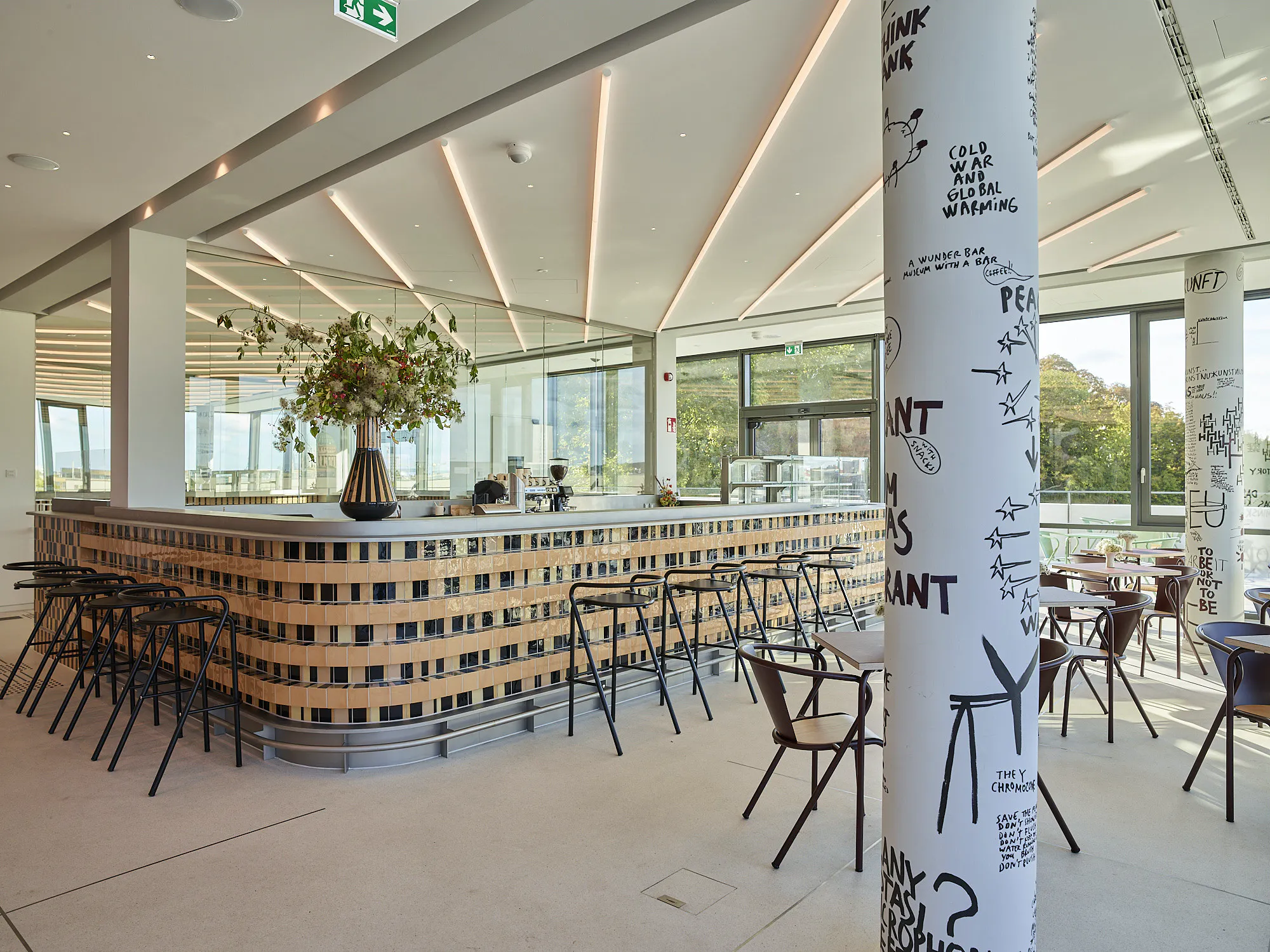 MINSKBAR NO.3 w/ resom and Anushka Chkheidze
Thursday, 17.8.2023 | Doors 18:00 / Start 19:00 CET
DAS MINSK Kunsthaus in Potsdam | Max-Planck-Strasse 17 in 14473 Potsdam
DAS MINSK is a 5 minute walk from Potsdam main station. From Berlin​ > ICE, RB, RE, HBX, S 7